What do the top marketing agencies in the world have in common besides creative names, kick-ass portfolios, and caffeine addictions? Turns out, a whole lot. These top-tier agencies have decades of experience under their belts, but they also have a certain je ne sais quoi. You know, that "it factor" that has brands clambering to work with them? We've put together a list of what this "it" factor entails—and what to look for when hiring your next marketing agency. 
The top marketing agencies in the world are all… 
First, let us say that "top" anything is usually fairly subjective. Of course, analytics and awards make it a little more objective. But ask a handful of the biggest brands who the top marketing agencies in the world are, and the answers will vary. That said, we looked at four of the most well-known agencies—Ogilvy, BBDO, DDB, and Wieden + Kennedy—to find out what they have in common. This is what we found. 
…Creative thinkers 
Maybe it's obvious, but one of the most necessary skills an agency brings to the table is creative thinking. But this is usually more than your average think-outside-the-box perspective. It's the type of creativity that slaps you in the face (in a good way) and makes other brands say, "Why didn't we think of that?" Some of the top marketing agencies have created more than memorable campaigns. They've created trends, started meaningful conversations, and been at the forefront of changing technologies and public sentiment (think Nike and Kapernick). 
The trick here that takes creativity up a notch is in that second word: "thinking." Most agencies have creative, right-brained people who write poetically and design flawlessly (it's kind of the very least they can offer). But the ones at the top match that creativity with intentionality. They're thinking about the "why" behind every word chosen and every line drawn. They're asking tough questions like: is this brand making the world a better place? and how can we positively contribute to or shake up the narrative? When looking to hire an agency, make sure their portfolio matches their promises and their visions match their values. 
Agency Examples
Check out some of our favorite creative ads from the top thinkers in the world.
The Moldy Whopper campaign was edgy, tongue-in-cheek, eye-catching, and maybe more than a little nausea-inducing. The point is, it got people to talk and think. The award-winning campaign showed the construction and decomposition of a real Burger King Whopper—in stark contrast to its competitor with the golden arches and their never-decaying preserved food. Along with the copy "The beauty of no artificial preservatives," the campaign was a creative, daring take on fast food advertising. 
Most of us can recall a favorite "You're not you when you're hungry" Snickers ad (ours is Betty White by far). But what if Snickers could fix the world? BBDO took that creative thought to the next level with their Super Bowl ad and corresponding campaign. The ad was applauded for "addressing the daunting problems of the world today in a completely fresh way."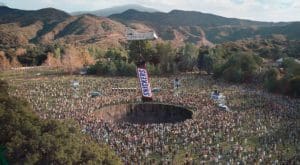 It's known as one of the ads that changed the world, so of course we had to include it on our list. DDB's 1959 Volkswagen ad "Think Small" took what was a relatively unknown, small, foreign car and made it iconic. "Their ads weren't lifestyle ads. They were a dark spot in a sea of white. The cars weren't fast. They were durable. Dependable." All of which contributed to the small Bug making a big splash.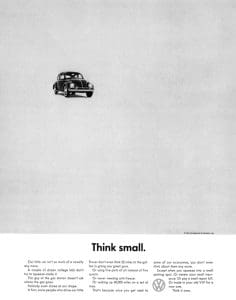 Wieden + Kennedy is known for its "creative brilliance" and memorable campaigns. Their Fisher-Price "Let's Be Kids" campaign took a hard right from most kid-centric toy commercials and focused on the kid at heart. The brand took the company mission of "letting us all get to share in the experience of being a kid" by giving an imaginative "welcome back" message for adults.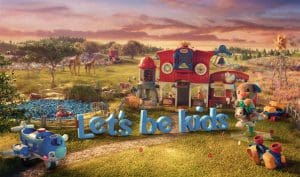 …Problem solvers
Good brands become great by doing more than offering a product or service. They want to make the world better. They make a positive difference. The top marketing agencies are the same. They never take your brand at its face value. Instead, they dig deep, ask hard questions, and figure out what kind of problem you need to solve. 
Maybe that's making life more convenient for parents. Or solving an inequality that's been overlooked for decades. Or, maybe, it's simply finding ways to bring joy to customers' lives. Whatever the problem your brand is trying to solve, a great agency will convey that to the world in a meaningful, unforgettable way.  
Agency Examples
These campaigns are bringing mastery to mission-minded goals. 
Ogilvy's campaign for Dove was a 2020 Clio Awards Silver winner for its portrayal of medical professionals during the height of the pandemic. Unlike other brands, Ogilvy's campaign took close-up portraits of these men and women, specifically focusing on the sores and marks the PPE had made with the simple "Courage is beautiful" copy at the end. The ad ends with the information that Dove is donating care products to front-line workers across Canada and a CTA to visit their website. Ogilvy's campaign was an on-brand move for the "real beauty" focused Dove and an authentic way to bring attention to the wear and tear healthcare workers endured during the pandemic. 
BBDO Toronto worked with international non-profit Right to Play to raise awareness about child soldiers. The campaign set out to change that with the message that children deserve to rise and deserve to play. The fundraising campaign helped "give them hope through play-based learning, amplifying a conversation around the organization's innovative and impactful approach to addressing the crisis of opportunity for children."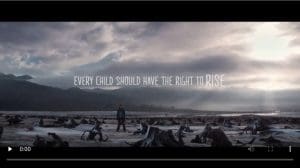 DDB's campaign worked with "the largest-ever coalition of organisations to bring equality to those with disabilities." The campaign raised awareness for the 15% of the world's population living with disabilities who lack access to basic human rights like healthcare, education, and employment. The powerful video spot humanizes the global effort with humor and relatability, showing that people with disabilities are just "ordinary people with flaws, senses of humor and relatable experiences, rather than superheroes or objects of pity."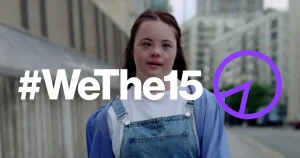 Wieden + Kennedy doesn't back down from making a statement. In their "Dream Crazy" campaign, they worked with Nike to take "Just Do It" to the next level. The most notable (and controversial) ad in the series was Colin Kapernick's with the copy "Believe in something, even if it means sacrificing everything." The complementary print ads and video ad in the series focused on athletes overcoming the seemingly impossible and asking if their dreams are crazy enough.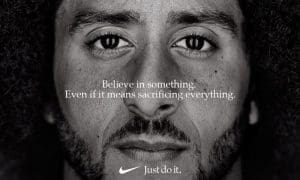 …Team players
If you've ever watched any kind of organized sporting event, you can attest to the beauty of a team working together. Sure, it would be incredible to watch LeBron shooting hoops on his own, but when he's with the team and they seem to be telepathically communicating, magic happens. Before you hire an agency to work with your brand, make sure they have a reputation for being team players. 
This is two-fold. First off, the top marketing agencies in the world have incredibly tight-knit teams of people they have hand-selected for their talent and how they fit within the agency itself. They treat their teams well, and they seem to have a genuinely great agency "culture." Second, great agencies are listeners just as much as they are doers. They hear their clients' concerns, ideas, and opinions and factor that into their work. And, they set ego aside and work with other creatives and strategists to take a great idea and make it legendary. 
Savy's Example 
At Savy, our people are our most important asset. We're a tight-knit group of strategists, dreamers, designers, and creators who understand that it takes more than the right tools to get a project done, and done right. It also takes vision, grit, and a whole lotta drive. Every member of our team graduated from the school of Get Shit Done—in addition to their graduate and post-graduate studies, of course. We strive to be innovative, bold, and—above all else—authentic.
…High achievers
Lastly, agencies that will go the distance are those that have a whiteboard session only to come back the next day and, in a stroke of brilliance, change the entire vision from their shower thoughts. They're the ones who will go to bat for their clients and fight for a brand vision that is authentic, realistic, and so far outside the box that it makes its own shape in the world. 
Savy makes its mark by working with brands that have meaningful, actionable goals. We align ourselves with thought leaders, product innovators, industry disruptors, and entrepreneurs. We help established brands reimagine themselves and build new brands from the ground up. And we work with top DTC and B2B brands across industries—from manufacturing, healthcare, and construction to non-profits, tech, and beyond. Did I mention we're also a top three percent Google partner? We set our standards high at Savy because we know that's what our clients deserve. 
Discover why Savy is one of the top marketing agencies
Here at Savy, we're all this and more. We embody the traits that the top marketing agencies of the world share and add some of our own to the mix: flexible, detail-oriented, self-motivated, and process-driven. We thrive at the junction of strategy and creativity and know that the players of our small but mighty marketing team make the difference for our clients. What can we do for your brand?