A Series on SEO Fundamentals Focused on How to Increase Organic Traffic
Organic traffic is the gold standard for gaining a competitive edge in the marketplace. And there's no better place to start in our three-part series on SEO metrics than with how to increase organic traffic on your website. Every time someone visits your website unprompted by a paid ad, it's organic traffic. And this basic metric can do big things for your website engagement! So let's get ready to rumble with some good old-fashioned data. 
What Is Organic Traffic on My Website?
SEO is part of an overall strategy with keywords to help improve your SERP results (Search Engine Results Page). The importance of the SERP results is this: it indicates to marketers how the Google algorithm is thinking about your website. SERP results are determined by a lot of metrics like organic search traffic, time on page, click-through rate, and more nuanced aspects of your website, like user experience.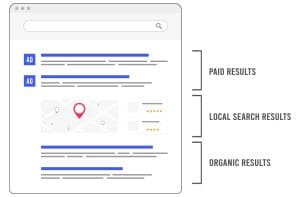 A SERP page pops up when a searcher types a question or phrase into a search engine. This gives the searcher a stack of results based on the keyword they entered. How your business ranks in these SERP results massively impacts how quickly those searchers find your brand or product. Once a user clicks through to your brand, this is reflected in your analytics as organic traffic. 
The term organic means they have not found you via a paid search advertisement or social media campaign. Organic traffic is also impacted by a host of other factors that Google monitors on your website, affecting how quickly search engines find your website. Things like content depth and quality, website authority, user experience, and website age.  
Why Is Organic Traffic Important?
When driving on the freeway, traffic is a four-letter word. But organic traffic for your brand is the holy grail of search visibility and brand awareness. It also helps you to do the following: 
Shows credible traffic is finding you vs. bots
Clicks can come from many different places—website bots, crawlers, automation software, and other non-human sources that aren't going to lead to conversions. Annoying, we know! Healthy organic search on your website means real people with real buying potential are searching and interacting with your brand. This is a good metric of your website's health and demonstrates that you're doing the right thing to attract attention.
Helps you focus on conversions
More traffic should lead to more conversions, ideally. And if not, it could be an SEO problem.  Either the searcher can't find what they were looking for and landed on your site by accident (bounce rate). Or maybe the keywords you've targeted need to align with your products and services more closely. Either way, healthy organic search volume should encourage you to take a second look at how your conversions are structured. What actions are you asking searchers to take on your website? How easy is it to go from information gathering to clicking through to purchase/subscribe/download? When you get curious about the user experience, your organic traffic and "time on site" have even greater chances of improving.
Acts as free marketing for your brand
Greater brand visibility doesn't have to come at a large price tag. Unlike paid advertising which requires investment in A/B testing, automated campaigns, and marketing strategy, organic search traffic is free if you do the right things with SEO. Organic search feeds your business by driving searchers through the door with a solid keyword strategy. That's the beautiful thing about the internet! But it's not instantaneous. Think of SEO wins as the long game. It takes time to build up recognition and street cred with Google. So if you've just started with a strategy, keep plugging away at it! 
How Do I Turn the Engines On to Increase Organic Traffic On My Website
While you can do plenty of things to increase organic traffic on your website, it's important to remember with marketing that there's no silver bullet. With customer behavior especially, your marketing strategy influences how people behave on your website. Keywords are influential but can't fix a clunky website, lagging page loading time, or content that doesn't match your business' purpose. Regardless, here are some ideas of what you can try to drive more organic traffic through your door!
Revisit your branding, logos, and website design
It's not just about optics. User experience matters to Google and to your customer. So even if you're in an industry where you don't need a fancy website, an outdated or cluttered website could lead to negative assumptions about your brand. Take this chance to brush up on your customer's online experience. 
What features would help them get where they're going sooner? For example, a robust FAQ page can boost customer service quality. An interactive lifestyle blog can inspire more customers to align with what it feels like to use your product or service. Websites are flexible, and all of the above will draw more people into your product or service and reward your brand with longer time spent on site.
Start using long-tail keywords
What makes a long-tail keyword special? First, specificity. The term "long-tail keywords" references the actual demand curve for these keywords. They aren't the highest searched terms (bringing up the tail-end), but they have one unique superpower. These keywords indicate major search traffic potential because they get users where they want to go faster. 
SEO company Ahrefs studied 1.4 billion keywords and found that only 9.3 percent of those with 1 million or more searches have 3 or more words. Those are long-tail keywords. And what does that mean for your business? Long-tail keywords are less competitive to rank for, meaning you show up closer to the top pages in the SERP stack, which leads to more organic search traffic! 
Take a second look at your content or start posting more regularly
Content quality matters to Google. If searchers can't find what they're looking for when they hit your page, it shows in metrics like low "time spent on page" or having a high bounce rate. You can achieve better quality content by looking at SEO search terms your audience is using and by exploring your customer's pain points. What are they looking for from your brand, and how do they like getting that information? The golden rule of all good content marketing is to be helpful. That's a great starting point if your content isn't landing with the people you want to reach!
Speaking of being helpful, this is your friendly reminder that Google is switching to G4 soon
Looking to increase organic traffic on your website? Then you're probably already aware of Google's transition from Universal Analytics to Google Analytics 4 (G4). As of July 1, 2023, Google will stop processing data in Universal Analytics and require users to switch to their new privacy-safe customer analytics in G4. This requires some manual setup and is an important step for everyone. Still, at the end of the day, it has more to do with data collection than how Google ranks pages.
Get Serious About Your SEO-Optimization, Organic Search Traffic, and Website Presence With Savy 
We get it. Marketing feels like a lot when you're going it alone or have other business-critical needs. It's hard to worry about all the things, which is where we come in. Since SEO strategy is responsible for a large part of driving traffic to your business, it's a great place to start. Time to revamp that website? Roll this and other priorities into a digital marketing overhaul of your brand. 
Whatever you need, we're here to support your marketing goals, polish up your logo, or make your SEO drive traffic to you so that you never have to chase down another customer! Keep following our blog for parts two and three of our "Metrics Explained" series, next up featuring click-through rate!